ELI 2012 Annual Meeting—Call for Proposals
Taking the Pulse: Connecting, Assessing, and Innovating
February 13–15, 2012
Hilton Austin, Austin, Texas, and Online
The 2012 gathering offers an exciting setting for interactive, hands-on learning and networking, whether you are joining online or face-to-face for presentations, discussions, seminars, and learning activities. We are seeking proposals that will address the thematic focus of the meeting, and, while not exclusive, represent these areas of keen interest across the teachi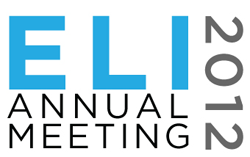 ng and learning community:
Social media

Mobile learning

Learning analytics

Digital and information literacy

Methods for evaluating technology-based instructional innovations
Proposals that reflect these five focus areas and the ELI's values and mission will receive the highest priority.
This year, presenters have a choice of submitting proposals for face-to-face sessions, online sessions, or both. Also new this year, proposal reviewers will carefully evaluate proposed session learning objectives and active learning strategies to ensure an engaging learning experience for attendees. Learn more about the 2012 focus areas and submit a proposal today.
Don't miss your opportunity to play an active role in the meeting. Submit a presentation proposal online by September 7
.